What is an athlete supposed to do when in lockdown mode? Some useful tips to effectively make use of the time spent away from the sports competition.
The situations we are facing worldwide with the Covid19 pandemic outbreak, are new to many. Most of the sports championships around the globe have been suspended until further notice with athletes and all sports personnel left without work. Athletes affected with the virus are in quarantine. Also many are just in quarantine mode as a precautionary measure. No practice, no games. Stay at home, that's a new for the majority of athletes.
So, what is an athlete supposed to do when he/she has to take a break with no time margin in sight?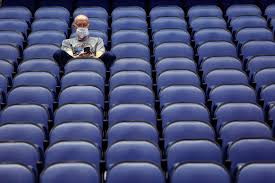 This is not vacation time where one knows exactly how much time off one has. This is different.
Although there is uncertainty about how long all this will last, there are things an athlete(of course not only) can do in order to stay active and don't miss on anything. There is always a window of opportunity in everything and a virus outbreak is one of those.
Let's see some practical tips on what can be done:
Work out.
Staying at home is no excuse to get out of shape. Many athletes report that their sports complexes are now closed even for practices. That does not mean that one must stay at home, eat all the time and watch TV. There are things that can/must be done in quarantine too. A TRX rope, a gym ball, weghts, mats, a treadmill and all kinds of gym equipment can be put in the house and make for a mini gym. Depending the house(garden etc.) any space can be configured into a basic gym to work out and keep in shape. I agree it is not the same as the real thing but it is the only alternative. A good physical shape is key to staying healthy from no matter what virus outbreak,that goes for the general population. Also, this time must be spent in the best possible way, so when competition does begin again, the athlete is not left too much behind.
Food/Lifestyle.
A reminder that this is not vacation mode. Athletes tend to "forget" their lifestyle routine when there is no competition. Nutrition is the first routine that goes out the window. Since the level of activity is going to go down, so must the calorie intake. The needs are not the same in terms of calories. That goes for alcohol consumption too. Now is not the time to relax the self-discipline mode because for all we know, life can go back to normal even as soon as tomorrow. Get on track with the much needed sleep and take rest as much as possible so the body can recover from all the consecutive games, trainings, travels. It is one of the positives of this whole situation, which brings us to the next point:
Education.
A great opportunity to spend time for education, to study for that degree you left hanging, get an online course about something useful and read! Now is the time to do the things you normally don't have the needed time to do. An athlete normally does not have the time to complete educational matters in their daily routine. So, take that course on what it is that interests you, finish that paper that is due for your degree. It will only make you better, a healthy mind in a healthy body is key. Athletes are constantly faced with that duality and unfortunately there is too much focus on only the physical aspect. Be an informed critical individual, one that can be much more than just someone that is remembered for their skills on the field. There is more to life and you shall see that upon retirement. Don't leave it until then, because it will be too late.
Start that business.
Not only will it keep you busy, but it will grow you as an individual more than just the financial aspect. Athletes are the perfect raw material for entrepreneurship because of their mentality and worldview. So, explore what it is you like to do and make it lucrative. Just as your sports career, you are doing something you love and getting paid for it. This will one day be over. Then something else will have to take it's place. Start today by putting the pieces together. There are business opportunities that can be operated 100%online, there are investment opportunities or you can get advisors to see how you can turn that idea of yours into a traditional business. Your sports network can be of valuable use and your image/brand name can attract investors.
Time with your people.
Don't take this lightly, this will be the most time you will ever have to spend with your loved ones, friends or family. Get to know them, they seem nice people, right?Between all the travelling and all sorts of activities an athlete has, there is little time to actually spend at home. That time then is used for rest leaving the people around affected. Now you have the time, play with your kids, cuddle with your companion, talk to friends and make up for the time. It is a gift in all this situation. Turn off the TV, there is nothing but fear replayed there anyways and talk, play, spend useful time with the others around. You will miss it in a while, so don't let this opportunity pass by.