The sport one chooses can reveal a lot about the personality, the inner self and the way one deals with situations in life, no matter if it is in a professional or recreational context.
Like all things in life, our choices reflect our way of thinking, our past, our goals and even while we are unaware of the process, our deeper personality components. Sport fits into this pattern too. Our physical activity is always a form of psychotherapy. A psychotherapy which takes place with our rules though. The more conscious one is, the easier it is to understand these signs and ultimately get to "know -a bit more- thyself".
So, this is a short intro in what is a whole scientific approach and I will be just placing the outlines of the theory, not going into detail because when going deeper in the subject, one has to deal with the specific personality and not only a general law.

Individual vs Team sport. This is the first major distinction. Whether one chooses to work out individually or by belonging to a team could be a mark for introversion or extroversion(roughly). It could provide some insights into how one deals with problems, alone or by sharing and asking for help and allowing others to be there. An individual sport athlete may have higher levels of self-confidence, knowing that their efforts are the only ones there are and that help is not coming from anywhere, in contrast to the team sport player who can rely on others' effort too for the common goal. There is also the joy one takes from the difference between "I did it" and "We did it". Both ways have strengths and weaknesses, but the important is to think about your own choice and try to go as deep as you can into your soul trying to find out your truth.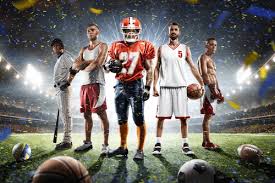 Means to an end is everything the athlete utilizes for the sport. There is deep psychological connection between the nature of the symbols the sport uses and our inner state. Some examples follow and you can expand this kind of analysis to your preferred sport.
Sports played with balls have the objective of scoring the ball into some kind of goal whether it is at a higher place and smaller(Basketball) or bigger but with a goalie(football etc). There are sexual extensions to this, which everybody can understand. Also, there are opponents that must be overcome through skills, strategy which can give a hint about our problem solving skills. Do we give up at failure or do we give up? And for how long? The nature of those sports is that of all the shots we take, just a small portion will be successful. We know that and we keep doing it, that says something about us.
Track and field sports have a variety, we can throw stuff(javelin, discus,shot put etc) which at a level can be related to some kind of aggressiveness. High jump can be related with a free spirit that would like to break bounds and fly high, maybe an artistic nature, while long jumps can be sought after someone who is more materialistic and is all about progress in this world, be it career, financial or any other aspect.
Water sports are an expression of getting away from the world, going to another reality because water obeys to different laws. Swimmers are physically flexible and that can be reduced to the inner self, in the way of how one deals with problems.



The workload. How obsessed are you in trying to achieve your goal? First of all, do you have a goal? I shall act as if you do. It can be a win, a time, a certain distance or any competitive aspect. How many tries will you give it before those thoughts of giving up eventually get you?
The quality of the routine, tells your tale. To what extent you are driven to achieve what it is you want to achieve. What you do when the repetitions get to be boring as hell. Eventually it comes down to one's ability for love. Can I love something enough to give it my all, or am I too in love with myself, not allowing anything else to give my life to? Including other people too.
There are two kinds of people in the world; those who fall and get up, and those who fall, get up but keep walking. It is not enough to get up, clean the dust and sit there. You must continue wanting to fall again. That is something an athlete has conquered and made it a life motto. Because, you know, you didn't come this far to only come this far.

Fitness is a separate section. Meaning the wave of people that are involved in physical activity for the sake of living a healthy lifestyle, with no competitive goal attached. The negative aspect here is a narcissistic approach to life, especially if it is done for the sole purpose of posting photos and videos of oneself sweating on Instagram. The positive aspect is the active lifestyle that comes along. People in the fitness field do have their routine in place and that is positive mentally too. The goal is for example one hour a day but they stick to that strictly. Such individuals are spiritual, less prone to anxiety and have a calmness which comes from the ritualistic way in which they perform their exercise. They tend to be less competitive and they can be trusted as friends and co-workers.




Remember we left out the physical benefits of sports which also contribute to the proper individual well being, but that was on purpose because those aspects are widely known and studied.
Sport is full of symbolism because it goes back to ancient times when athletic competitions were a part of religious festivities in civilizations such as Mesopotamian, Greek and Roman to name the most famous ones.
The form always gives away the inner substance.
Always.
Any form and shape. Just be conscious to de-symbolize it.